Comparison Study
Atellica® Solution vs. Abbott Alinity ci-series
The data is in. See how Siemens Healthineers Atellica® Solution performed against the competition in a comparison study. Download the results today!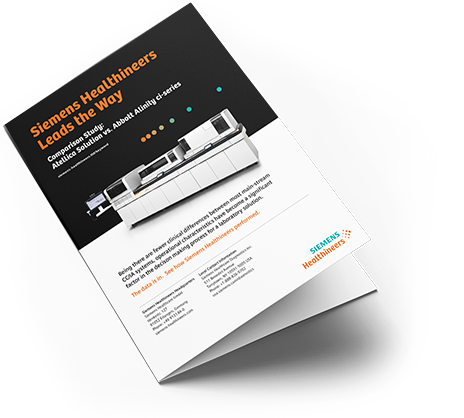 See how Siemens Healthineers performed. Get the comparison study today.
Study Overview
The diagnostic industry is continually improving their product offerings within the high-volume clinical laboratory environment. Today's cutting-edge solutions are highly automated, robust and accurate. Laboratory professionals expect and demand that all vendor's core lab solutions provide similar clinical outcomes and operational efficiencies. This is especially true within the high-volume clinical chemistry (CH) and immunoassay (IM) areas.
Being there are fewer clinical differences between most main-stream CH/IM systems, operational characteristics have become a significant factor in the decision making process for a laboratory solution.
This study compares the operational characteristics and effectiveness of the Siemens Healthineers Atellica Solution to the Abbott Alinity ci-series, a leading industry competitor.