Integrated, automated sealing.
Introducing the new Atellica® Sealer, now available on the standalone Atellica® Solution. The easily replaceable foil reel contains 20,000 seals, sealing up to 480 tubes/hour.
---

Reduce
Reduce labor and hands-on time versus manual sealing.

Save
Save post-analytic processing time.

Streamline
Streamline sample processing workflow and allow for predictable turnaround times.

Prevent
Prevent operator potential exposure to biohazardous materials.
10
QUESTIONS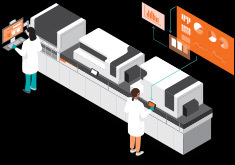 Are you ready to leverage integrated automation?
In this guide, you'll find 10 key questions your team should be asking as you evaluate your options for integrated automation.